Tarrant County Court Opportunity
Tarrant County Democratic Party announces 485th District Court Judicial Candidate John Brender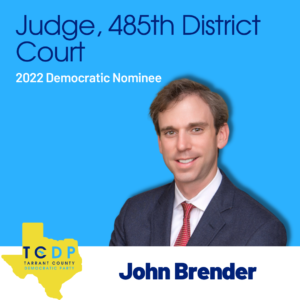 Tuesday, August 23rd official members of the Tarrant County Democratic Party met and voted to nominate John Brender as our candidate for the 485th District Court. John is an accomplished attorney with a wide range of legal experience and knowledge, including his time as a prosecutor.
Democrats looks forward to the opportunity to elect fair-minded judges to the bench who will serve all of the community in Tarrant County. Thank you to every voting member who attended our Special CEC Meeting and the two Candidates for running.
For questions or to help elect John and other down ballot Democrats contact the party office at
[email protected]
. 
###