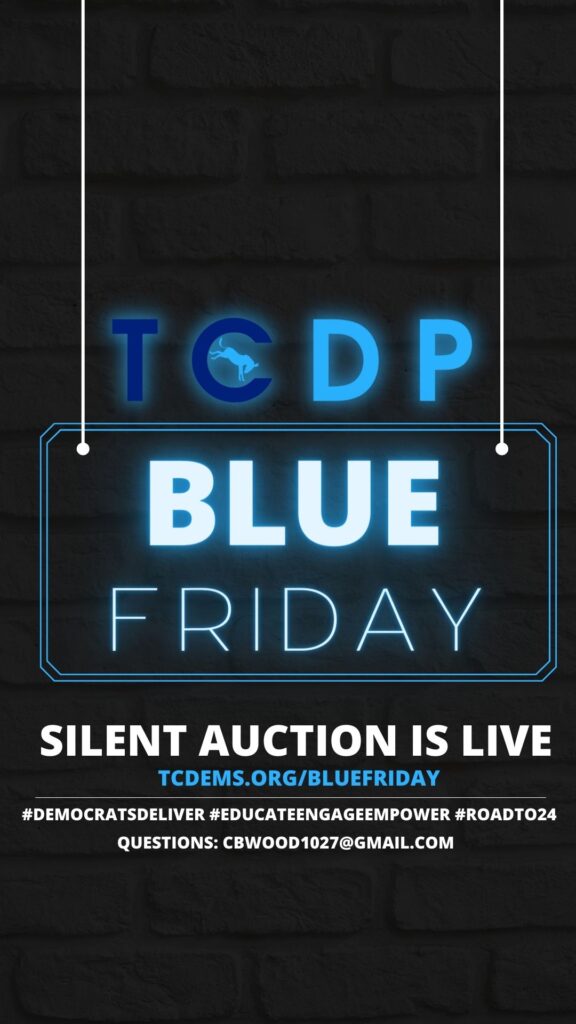 We invite you to our "Blue Friday" Online Silent Auction! This event promises to be a fantastic opportunity for you to not only contribute to our cause but also snag some incredible items. 
Our auction features an array of enticing items that cater to various interests. Whether you're dreaming of a relaxing getaway,
a fine bottle of wine, or other exciting packages
, there's something for everyone. By participating, you'll not only be treating yourself to something special but also supporting TCDP as we work towards creating positive change in our community.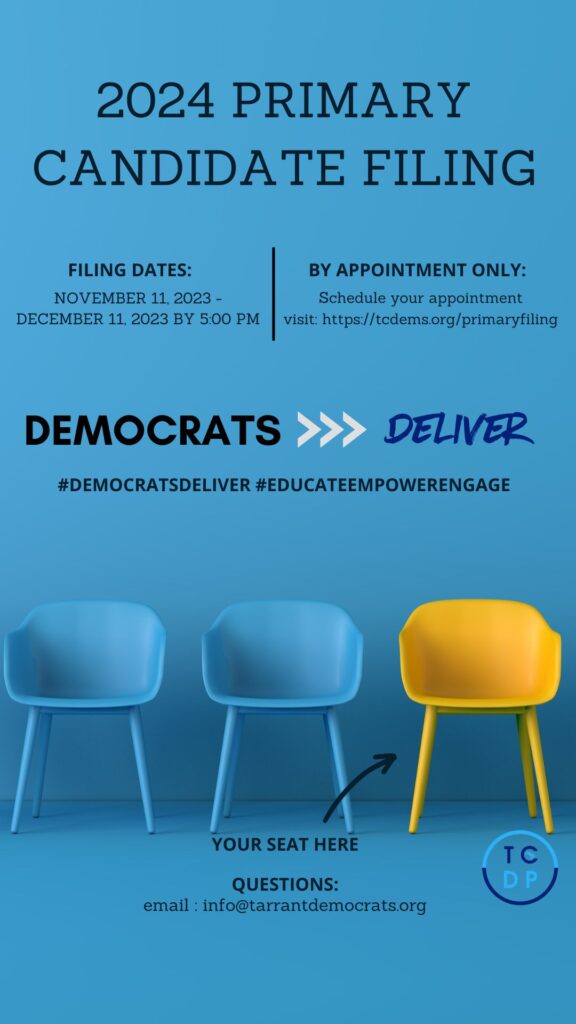 Attention Tarrant County Democratic Candidates 
We're thrilled to announce that candidate filing for the 2024 Primary Elections is officially open! Are you ready to be a part of the change we want to see in Tarrant County? Your journey begins here!
**Schedule Your Filing Appointment:**Visit the TCDP calendly to secure your spot and make your mark in the upcoming elections. At TCDP we believe in action. Democrats deliver on promises, educate our community, empower every voice, and engage for a brighter future. Join us in this movement!
Join us every Wednesday for Working Wednesdays at the Tarrant County Democratic Party headquarters! 
Calling all passionate individuals ready to make a difference! Here's your chance to roll up your sleeves and support the heartbeat of our community.
Every Wednesday, our doors swing open from 2 pm – 4 pm to welcome dedicated volunteers like you. Whether you're a seasoned activist or just starting your journey, your enthusiasm and energy are invaluable.
Let's work hand in hand to shape the future we believe in. Together, we can amplify our voices, empower our community, and create lasting impact. See you at Working Wednesdays!
Sustaining members are the heartbeat of the Tarrant County Democratic Party, fueling our mission to champion progressive values and shape a brighter future.
With unwavering dedication, we stand united, driven by the shared goal of ensuring that 2024 heralds a new era of progress, where our ideals are not just heard but voted into office.
Together, we pave the way for a community where every voice matters and every vision finds fruition. 
Join us in this transformative journey toward a more inclusive and progressive Tarrant County!
Introducing the Chairwoman's Challenge! Our fearless leader kicks off a game-changing initiative by donating $1000.00, throwing down the gauntlet for all passionate advocates of progress!
Let's rise to the challenge, match her generosity, and fuel the fight for a brighter future in Tarrant County. 
Every dollar counts, every voice matters. Together, we can make a difference!  

685 John B. Sias Memorial Pkwy
Suite 400
Fort Worth, TX 76134
10:00AM – 4:00 PM
Monday – Friday
Contact the Voter Protection Hotline to report any obstacles or irregularities to voting you encounter at 844-TX-VOTES.
Paid for by Tarrant County Democratic Party, Crystal Gayden, Chair, not authorized by any candidate or candidate's committee.