On November 7, 2023, voters will decide on 14 proposed amendments to the Texas Constitution.
𝐌𝐚𝐧𝐲 𝐨𝐟 𝐭𝐡𝐞 𝐩𝐫𝐨𝐩𝐨𝐬𝐞𝐝 𝐚𝐦𝐞𝐧𝐝𝐦𝐞𝐧𝐭𝐬 𝐰𝐨𝐮𝐥𝐝 𝐜𝐫𝐞𝐚𝐭𝐞 𝐨𝐫 𝐚𝐥𝐭𝐞𝐫 𝐟𝐮𝐧𝐝𝐬 𝐭𝐨 𝐬𝐮𝐩𝐩𝐨𝐫𝐭:
* Higher education research
* Water infrastructure
* Gas-fueled power plants
* Broadband infrastructure
* Maintenance and creation of state parks
𝐒𝐞𝐯𝐞𝐫𝐚𝐥 𝐨𝐭𝐡𝐞𝐫𝐬 𝐰𝐨𝐮𝐥𝐝 𝐚𝐝𝐝𝐫𝐞𝐬𝐬 𝐭𝐚𝐱𝐞𝐬 𝐛𝐲:
* Raising the homestead exemption for homeowners from $40,000 to $100,000
* Creating some tax exemptions for medical equipment and child-care facilities
* Banning lawmakers from imposing "wealth taxes" without voter approval
𝐎𝐭𝐡𝐞𝐫 𝐚𝐦𝐞𝐧𝐝𝐦𝐞𝐧𝐭𝐬 𝐰𝐨𝐮𝐥𝐝 𝐚𝐟𝐟𝐞𝐜𝐭 𝐓𝐞𝐱𝐚𝐧𝐬 𝐢𝐧 𝐜𝐞𝐫𝐭𝐚𝐢𝐧 𝐩𝐫𝐨𝐟𝐞𝐬𝐬𝐢𝐨𝐧𝐬 𝐛𝐲:
* Granting retired teachers cost-of-living raises
* Raising the mandatory retirement age for state judges
* Protecting generally accepted farming and ranching practices from state and local regulation
Additional Resources: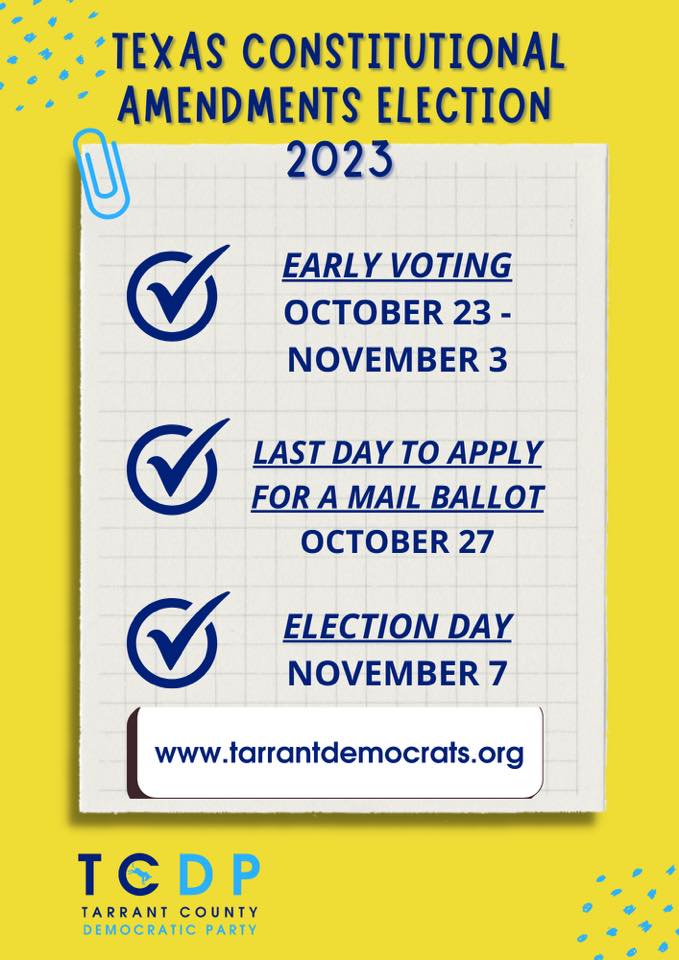 Questions about voting? The Texas Democratic Party's  Voter Assistance Hotline can help!
Call at 1-844-TX-VOTES \ 844-898-6837
Visit https://teamrv-mvp.sos.texas.gov/MVP/mvp.do and select your method of lookup by using the drop-down box on the right-hand side of the page.
VUID = Voter Unique Identifier (displayed on your voter registration card)
TDL = Texas Driver's License
Enter your information and press "Submit."
Postage-paid Options:
— Obtain a voter registration application at the Tarrant County Election Administration Office (located here) as well as any Tarrant County subcourthouse, library, post office, city hall, high school, or public service office. Complete the application and mail it to the address below.
— A Volunteer Deputy Registrar (or VDR) may also register you to vote if one is present at an event you happen to attend. The VDR will turn in the application for you.
Non-Postage-paid Option:
— Download the voter registration form at home/work/a library, print it out, and complete it. Mail the completed form to the address below.
ALL Voter Registration Applications should be mailed or returned in person to:
Voter Registration
Tarrant County Elections
2700 Premier St.
Fort Worth, TX 76111-3011
If you moved within Tarrant County or have changed your name and still reside within Tarrant County, the easiest option is to complete the form at this link. 
Other options are:
— Fill out a new voter registration application form and check the "change" box.
— When you apply for or change your Texas driver's license, change your voter information at the same time.
If you have permanently changed counties you must re-register in the new county. This will also account for any name changes. The same registration process and registration deadlines still apply. Read more in the section above.
685 John B. Sias Memorial Pkwy
Suite 400
Fort Worth, TX 76134
10:00AM – 4:00 PM
Monday – Friday
Contact the Voter Protection Hotline to report any obstacles or irregularities to voting you encounter at 844-TX-VOTES.
Paid for by Tarrant County Democratic Party, Crystal Gayden, Chair, not authorized by any candidate or candidate's committee.