Your resource for everything about Vote By Mail!
Dates, Forms, News It's all here for you.
Who is able to request a Mail Ballot?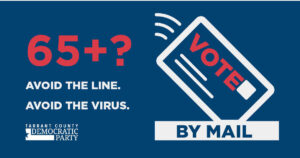 -- Individuals 65 and over on Election Day
-- Individuals who are sick or have a disability and affirmatively indicate on the application that they "have a sickness or physical condition that prevents [them] from appearing at the polling place on election day without a likelihood of needing personal assistance or injuring [their] health,"
-- Individuals who are confined in jail
-- Individuals who will be outside of their county during Early Vote AND Election Day
--Individuals who are expecting to give birth within three weeks before or after Election Day
Application For a Ballot by Mail can be downloaded here and must be received by the Early Voting Clerk on or before April 25, 2023. The application is pre-addressed to the Tarrant County Election Administration and requires postage.
Laws around Voting by mail have changed in the last legislative session and have caused delays in application acceptance.
To avoid delays in receiving your mail-in ballot:
-- Add both your TX Driver's License/State ID number AND the last 4 digits of your SSN on your application
-- Include your phone number and e-mail address so Tarrant County Election Administration can contact you to quickly address issues. 


The completed ballot may be delivered by mail or in person and must be received by Tarrant County Elections Administration on or before Election Day, Saturday, May 6.
Mailing Address: 
Tarrant County Elections
PO Box 961011
Fort Worth, Texas 76161-0011
Express Courier Delivery:
Tarrant County Elections
2700 Premier St.
Fort Worth, Texas 76111-3011
For more information from Tarrant County Elections about Voting By Mail, visit TCE's VBBM page.
To reach Tarrant County Elections:
Phone: 817-831-8683
Email: [email protected]
If you have questions, call the Texas Democratic Party's Voter Assistance Hotline: 844-TX-VOTES