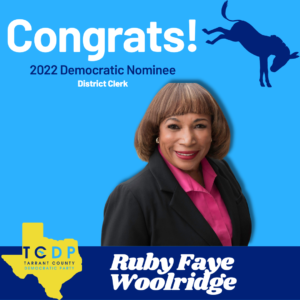 Congratulations to special election winner Ruby Faye Woolridge, for District Clerk. This special meeting of the CEC took place June 21st at 630pm via Zoom. Our prior nominee was unfortunately unable to continue on, as he is moving out of county and is unsure when he will return which deems any candidate ineligible to run for the position. TCDP works closely with the state Democratic Party, the Secretary of State, and the Tarrant County Elections Administration to ensure a smooth nomination process.
If you would like to learn more about the office of the District Clerk you can do so here. Mrs. Woolridge will be on the general election ballot November 8th, 2022. We encourage all voters verify their voter registration status after multiple voter suppression attempts and the passage of SB 1 which successfully reduced voters ability to cast a ballot in the March Primaries. 
For any questions regarding this special election, please contact us at [email protected].
 ###